The 2021 Subaru Love Promise Customer and Community Commitment Award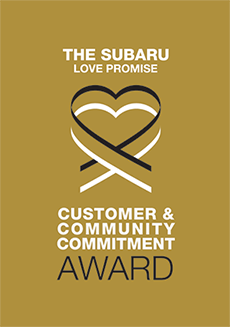 We've been nationally recognized for our dedication to our customers, our community, and the Subaru Love Promise.
We're honored to receive the 2021 Subaru Love Promise Customer and Community Commitment Award. This award nationally recognizes elite Subaru retailers who provide an exceptional customer experience at every interaction with Subaru. These retailers have also demonstrated an outstanding commitment to supporting passions and causes in their local communities in important areas such as the environment, community, health, education, and pets.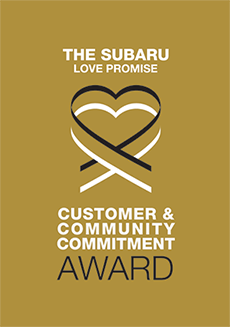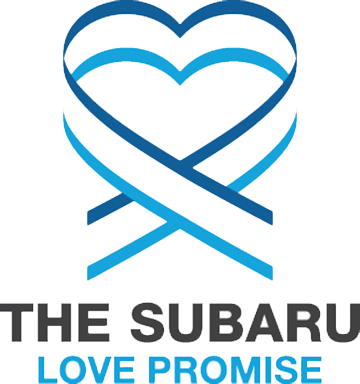 What is the Subaru Love Promise?
Subaru and our retailers believe in making the world a better place and the Subaru Love Promise is our vision of respecting all people. This is our commitment to show love and respect to our customers and to work to make a positive impact in the world.
How is Tindol Subaru dedicated locally to the Love Promise?
Our Love Promise can be seen in various partnerships with local charities and non-profits in and around the Greater Gaston Region. We're grateful for the opportunity, not only to be a part of our community, but to serve it as well.
Animal League of Gaston County
Catawba Lands Conservancy
Gaston County Family YMCA
Love Promise Stories from Tindol Subaru
Subaru and Tindol Subaru believe in making a positive impact on the communities in which we live and work. We uphold that belief through our Love Promise Community Commitment. Every month, we select inspiring stories from customers and partners from around our area who strive to support our collective commitment and feature them here
Supporting the Catawba Lands Conservancy - Robin A
Tindol Subaru is a proud annual support of The Catawba Lands Conservancy & Carolina Thread Trail, now celebrating its 30th year of saving land and connecting people with nature. The CLC works to preserve wildlife habitat, protect water quality, working farms and scenic lands with a voluntary land preservation agreement, called a conservation easement. Catawba Lands Conservancy is also the lead agency for the Carolina Thread Trail, a regional network of trails, blueways and conservation corridors that will ultimately link more than 2.3 million citizens in North and South Carolina. Its legacy will celebrate the region's history, beauty, and diversity, while conserving local lands and providing a broad range of community benefits. The Thread will link more than two million citizens with hundreds of miles of pedestrian and bicycle trails that wind through 15 counties in North and South Carolina.
---
Toys for Tots Annual Toy Drive and Toy Run - Brandi W
Each year we collect new unwrapped toys to distribute as Christmas gifts to the less fortunate children in the community as part of The United States Marine Corps Reserves Toys for Tots program. Tindol Subaru has supported Toys for Tots since they began in Gaston County 13 years ago. In early December, the Tindol Team collects thousands of dollars worth of new toys to share with local families. Tindol also hosts a "Toys for Tots Run" the second Saturday in December. We typically have from 100 to 150 customers and friends come out to support the toy donation. On top of the toy collection, the Toy "Run" usually attracts 80-120 vehicles to ride in the "Run" event that circles the county. The Gaston County Sheriff's Dept supports this event as well by sending several Deputies to chaperone the "Toy Run" to protect the vehicles parading around the County for the benefit of the kids. This attention really helps us gather more toys and donations for the less fortunate in this area by raising the awareness of our program.
---
Convertibles for a Cause - Topless Cruise - Brandi W
The 9th Annual Topless Cruise in Belmont, NC raised over $10,000 for Cancer Services of Gaston County to help local cancer patients with nutrition, wigs, necessities, treatments, etc. Convertibles for a Cause was founded by Denise Price Thomas almost a decade ago and 100% of the proceeds from donations, sponsorships and auction items goes to help local cancer patients. Tindol Subaru sponsors the annual event and our team participates in the auction and cruise to champion fundraising efforts, to celebrate the survivors and to support the fighters. The Topless Cruise has raised more than $60,000 over the past nine years. "We celebrate survivors & fighters, we honor those who have left memories to cherish… We hear their story, stand beside them in their journey & offer support by being there & being a friend… Together, we shine brighter" Denise Price Thomas, Founder
---
Trunk or Treat at Tindol Subaru - Brandi W
The Tindol Subaru Team was handing out more than just great customer service for Halloween... We hosted our First Annual Trunk or Treat event for our customers and friends. We spent the day handing out candy to our visitors and treats for their fur friends. We are so honored to be a part of this wonderful community!
---
Hometown Heroes Drive By Feeding - Natalie T
The Tindol Subaru Team showed our appreciation for the service men and women in our local community by feeding them a drive-by-lunch from Chick-fil-A and honoring them with an award that signifies our appreciation. We fed over 400 Hometown Heroes from all 5 branches of our County's First Responders; County Police, City Police, Fire, EMT, and Sheriff. "We are extremely fortunate here in America. Among our countless blessings are our greatest….our freedom and our safety. These are blessings to which we owe a great debt of gratitude to you, our heroes – the men and women of our armed forces and our first responders. So for all you've done and continue to do for us, our families, our community and our country, It is with a great degree of sincerity and humility that all of us here in the Tindol Family say simply, "thank you". - Natalie Tindol
---
HHH - Supporting ISF Pediatric Cancer Research - Karen M
The Isabella Santos Foundation (ISF) is committed to improving rare pediatric cancer treatment options in an effort to increase the survival rates of kids with cancer. Over the course of fifteen years, ISF has funded $6 million toward expanding the scope of research and treatment and supporting families dealing with cancer in a variety of ways. One size fits all does not work with childhood cancer, so we are grateful for our partners like Tindol Subaru that help us raise money and awareness for these essential efforts towards beating rare pediatric cancers. One of our many events is the Handbags, Heels, and Horsepower event that kicks off the Charlotte International Auto Show. Natalie and Robin and their staff share their great energy and enthusiasm for ISF in many ways, and we are thankful for their assistance with many fundraisers and friend-raisers. This event added $60,000 to the efforts towards our goals and Tindol brought their entire administrative staff to the morning event in support of our endeavors. It takes a village, and we are thankful to have Tindol Subaru as part of our village.
---
Arin's Good Girl Dog Treats - Brandi W
Tindol Subaru was excited to showcase Arin's Good Girl Dog Treats during our Subaru Loves Pets Month events in 2021 and the dealership is now supporting Arin's mission by purchasing the delicious all natural treats for our Subaru customers to give to their fur friends. Arin and her "Good Girl," Posie the service dog, are a dedicated duo. Arin was born with Microcephaly, an intellectual disability, which has limited her opportunities to participate fully in society. But Posie is her committed partner and has provided access and opportunity to connect with and contribute to the wider world. As thanks to her invaluable friend, Arin began baking Posie delicious treats made with real peanut butter, cheese, bacon and other dog approved ingredients. The mission at Arin's Good Girl Dog Treats is to expand the impact of Arin's passion and support careers for individuals with different abilities that reinforce independence, resilience, and purpose. The vision of the non-profit is to provide employment opportunities for all individuals who are differently-abled by finding meaningful careers that leverage their unique talents and interests.
---
Dancing for Future Stars - Anna F
Dancing for Future Stars (DFFS) is the signature fundraising event for the Boys & Girls Clubs of Greater Gaston. In its eleven-year history, the event has continued to gain momentum and growth as one of the premier events in Gaston County. The team at Tindol has been a sponsor for our event every year since its inception. DFFS revenue has increased from approximately $50,000 to $500,000 annually, providing an opportunity for more youth in our community to develop the qualities needed to become responsible and caring citizens. Since the beginning of DFFS, club membership has grown from 500 to more than 1700 youth (during non COVID times). The afterschool enrichment program provides the best care for the youth of Gaston County by helping the latchkey child become more successful and goal-oriented. The program goals are to improve academic performance, decrease dropout rates, lower the number of juvenile crime, prevent teen pregnancy and to inspire Club members to be leaders of the future. Dancing for Future Stars is crucial to ensuring the program is a success! Natalie Tindol, the dealer at Tindol Subaru, and her team have always been generous with their help. Natalie even danced as a contestant in the 2011 contest and won!! We are having an Alumni version of this event in 2022 and Natalie has agreed to dance once again to help us continue our awesome momentum. Tindol Subaru also champions the contributions of our local Dealer Association, the Greater Charlotte Dealers, and their financial participation with our club has been significant as well. We are appreciative of our business partnerships across our county, and we can always count on Team Tindol to be an energetic part of our support team. They are making a difference in the lives of our kids!
---
WOW Food Drive for Crisis Assistance Ministry - Robin A
Tindol Subaru and CaroMont Health Foundation's WOW (Women Optimizing Wellness) hosted a Food Drive at the dealership on Nov 13th, 2021 to support Crisis Assistance Ministry. Our Tindol Subaru Team and Subaru Customers donated canned soup, canned vegetables, canned fruit, macaroni and cheese, and breakfast items, then we loaded up a few Subaru Ascents to deliver the food to CAM. Thank you to everyone who helped us support this organization which makes such a huge impact in our local community.
---
Ivan is no longer an "Underdog" - Terry K
On October 2, Tindol Subaru held a large adoption event in conjunction with the annual Cruise In. Hundreds of people were present and many of the attendees came to see the adoptable pets. Cassie Harlow works with our long-time supporter, Tindol Subaru, and she was working on the day of the Tindol ASPCA/Subaru adoption event. Cassie didn't come to work that morning thinking about adopting another pet, but she was immediately drawn to a white shelter dog being held by a volunteer. If she was going to adopt a new "family member" she wanted to adopt an Underdog, and she found one. He was heartworm positive, very timid, and scared. She knew his chances of getting adopted were slim. None of those things deterred her from adopting Ivan. When she got Ivan home, he was terrified of her husband and children. Cassie was "his person." All that changed in a very short time. Now he is happy and comfortable with the entire family. According to Cassie, "he knows he's in his forever home." In addition to his human family, he has a "sister," named Lucy who was also rescued. Ivan and Lucy have quickly become best buds! Although Ivan is a white dog, he usually looks orange due to North Carolina's famous red clay. He and Lucy love to roll and play in their fenced yard. To keep Ivan's fur white, Cassie invested in a groomer bathtub. We absolutely adore Ivan, said Cassie. I know I made the right decision adopting this wonderful "Underdog." Ivan makes us smile everyday. He is a joy to be around.
---