The 2021 Subaru Love Promise Customer and Community Commitment Award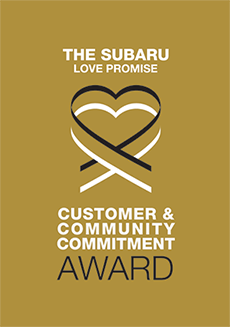 We've been nationally recognized for our dedication to our customers, our community, and the Subaru Love Promise.
We're honored to receive the 2021 Subaru Love Promise Customer and Community Commitment Award. This award nationally recognizes elite Subaru retailers who provide an exceptional customer experience at every interaction with Subaru. These retailers have also demonstrated an outstanding commitment to supporting passions and causes in their local communities in important areas such as the environment, community, health, education, and pets.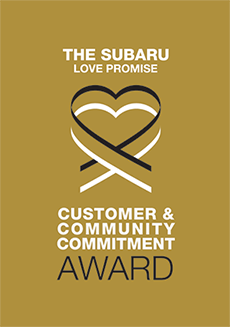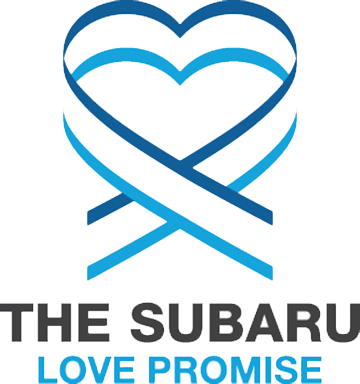 What is the Subaru Love Promise?
Subaru and our retailers believe in making the world a better place and the Subaru Love Promise is our vision of respecting all people. This is our commitment to show love and respect to our customers and to work to make a positive impact in the world.
How is Tindol Subaru dedicated locally to the Love Promise?
Our Love Promise can be seen in various partnerships with local charities and non-profits in and around the Greater Gaston Region. We're grateful for the opportunity, not only to be a part of our community, but to serve it as well.
Animal League of Gaston County
Catawba Lands Conservancy
Gaston County Family YMCA
Love Promise Stories from Tindol Subaru
Subaru and Tindol Subaru believe in making a positive impact on the communities in which we live and work. We uphold that belief through our Love Promise Community Commitment. Every month, we select inspiring stories from customers and partners from around our area who strive to support our collective commitment and feature them here
Gastonia East Rotary Club - Summer Concert Series - Natalie T
In the Gaston County community, we have several local Rotary International clubs that hold special events and projects throughout the community. The Gastonia East Rotary club partners with the City of Gastonia each year and sponsors a summer concert series in our downtown at our Rotary Pavilion that was built many years ago as a joint effort with 2 other local Rotary Clubs. The summer concert series raises money for the Rotary international Foundation to fund worldwide projects such as eradicating polio, digging and building wells in remote villages with no access to fresh water, and other massive undertakings around the globe. Tindol Subaru has been proud to partner with Gastonia East Rotary since 2015 to bring these yearly summer concert series to fruition. Typically, the concerts bring anywhere from 2000 people to 5000 people downtown to enjoy good music and good fellowship. Tindol Subaru has the opportunity to share with these folks the differences we are making together in good 'ole Gastonia. The money raised for the International Foundation makes the world a better place. Polio has been nearly eradicated around the world in all but two countries. Much of this is thanks to Rotary international Foundation and the Bill and Melinda Gates Foundation which contributes to this international need as well. Tindol Subaru is proud to be able to do our small part to help other countries around the world through partnerships in our very own hometown.
---
Dream Academy - Summer Immersion Program - Brandi W
The mission of the Dream Academy is to build generations of students who become college- or career-ready graduates who make a difference in our community. Tindol Subaru was honored to provide internship shadowing opportunities to two local high school students during the month of June as part of this program. One student worked closely with our sales team to learn more about finance and business management careers, while the other student worked with our service technicians to learn more automotive service careers. When school is not in session, the Dream Academy's goal is to provide summer immersion programs for students to continue developing and increasing exposure to real word applications. Program participants are identified by their teachers as students with great academic potential, but students who face at-risk factors that could keep them from reaching their full potential. The Dream Academy helps students gain insights into careers and community driven businesses in hopes that one day they will return to Gaston County and serve their community in some capacity. One way to accomplish this inspirational task is to pair the older students with job shadowing opportunities that match their college-major interest. Tindol Subaru Loves Learning!
---
Tindol Subaru's Annual GPF Golf Classic - Amanda N
The Gastonia Police Foundation was established in 2009, and has been partnering with Tindol Subaru since 2010. They are the Title Sponsor of our annual golf tournament, which is our main fundraiser. Through the money they raise, our Foundation has been able to provide more programs and services in our community than ever before. The Foundation works closely with our department to create countless opportunities for youth in our community, for our officers, and even our canines. The tournament has helped us raise funds for programs such as Shop with a COP, Unity in the Community, drones, canine bullet-proof vests, and CSI camp to name a few. Each and every program helps us to serve the public better and to strengthen relationships throughout our community. The Tindol Team, in conjunction with our board of directors, works tirelessly to ensure the event raises enough money to help support these programs. We are fortunate to have a tournament that has been sold out each year the Foundation has been involved. The community support is overwhelming and the participation from numerous law enforcement agencies in our area is inspiring. The Tindol Subaru Golf Tournament does not just have private donors playing the course, but members of the Gaston County Sheriff's Office, NC Highway Patrol, and the Gastonia Police Department. Each of these agencies pay to have teams who play in order to help support the event and to ultimately make a difference in our community. The tournament has proven to be not only an opportunity to raise funds for our city-wide programs and events, but also to create camaraderie. We are grateful for Tindol Subaru's partnership and we look forward to making a difference in our community for many more years together.
---
Are You Smarter Than a Gaston County 5th Grader? - Jaime W
On behalf of Gardner Park Elementary, we would like to say thank you a thousand times to Tindol Subaru for their continued support and commitment to the community especially during these times of uncertainty. Tindol Subaru has been a wonderful sponsor of the Are You Smarter than a Gaston County 5th Grader for the past fifteen years. Yet, this year was truly one for the books with Max and Miles leading the excitement as our team captains from Gardner Park. The event radiates fun and excitement as the team at Tindol Subaru always demonstrates excellent sportsmanship as the kids show just how smart a 5th grader is! With this event being the main fundraiser for the Gaston County Education Foundation, we are always so thrilled to participate with the team at Tindol Subaru in an effort to raise money for teacher grants. These grants support creative classroom projects and programs that add substantially to the knowledge and growth of our students. Thank you, Natalie, Robin and the Tindol Subaru team, for continuing to support and pave a road of success for our student scholars!
---
YMCA Pledge 2 Plunge - Brandi W
The Team at Tindol Subaru took the plunge into Robinwood lake to support the YMCA during the 2021 Pledge 2 Plunge fundraiser, helping to raise over $2500 to support community programs at the Warlick Family YMCA in Gaston Co.
---
Taking the Plunge to Support the YMCA - Michelle B
Tindol Subaru took the plunge to help raise money for the Warlick Family YMCA in Gastonia. The "Tindol Suba Heroes" Team dressed up in neon super hero masks and capes and jumped in the chilly waters of Robinwood Lake as part of the YMCA's annual Pledge 2 Plunge fundraising event. Tindol Subaru raised over $2500 for The Annual Giving Campaign which supports amazing Y programs such as Y Enrichment Program and Afterschool, Summer Day Camp, Safety Around Water and LIVESTRONG at the YMCA.
---
ISF - Supporting Pediatric Cancer Research - Karen M
"I can't begin to thank you enough for your Sponsorship and Luminary Dedication supporting our March 9th event (Isabella Santos Foundation Luminary Event to raise funds for a pediatric cancer clinical trial while honoring cancer survivors). It was an incredibly special day celebrating Isabella and to have so many luminaries of loved ones surrounding hers was inspiring. I do wish everyone had the chance to be there with our team for the exact moment when all the purple luminaries started to glow in the dark… it was breathtaking! Your sponsorship helped us raise $91,327 and will go directly to helping fund Dr. Sholler's neuroblastoma clinical research trial at Levine Children's Hospital. Dr. Sholler and her ISF Rare & Solid Tumor Team are making waves for kids with rare cancers and we are so proud to be part of it. This program is truly saving lives because of your support." Karen Murphy, Director of Sponsorships & Partnerships, Isabella Santos Foundation
---
Belmont Teacher Lunch - Rochelle
Tindol Subaru bought lunch for the Belmont Middle School teachers on Friday March 19th. With virtual school, 2-day in person school, and frequent disinfecting and cleanings, the teachers are working bell to bell and burning the candle at both ends. Tindol Subaru wanted to share some love with them, so they partnered with Belmont's Specialty Foods, a locally owned restaurant and catering service in Belmont. This was a simple but meaningful act of kindness. "Thank you very much for your support to the teachers and staff at Belmont Middle School! The meal provided by Belmont Specialty was a huge hit! The support you give to our community amazes me and encourages me to continue to do more. Thank you from the bottom of my heart!" Rochelle Skarpalezos, Belmont PTO
---
Second Harvest Food Bank - Julie P
Tindol Subaru is honored to help Feeding America support the Second Harvest Food Bank of Metrolina which provides food to families in 24 counties throughout North and South Carolina. Local Subaru retailers are helping to provide over 760,000 meals throughout our local communities. Second Harvest provides food and grocery items to charitable agencies that assist people in need. They also provide training, technical assistance and hunger education to partner agencies in an effort to help end hunger.
---
How Many Cats Can you Fit In a Subaru - Brandi W
Tindol Subaru loves pets and we love helping our local animal shelters find loving homes for pets in need by sharing their posts on social media to help gain additional exposure. The dealership appreciates all of our community partners for helping local pets in need, and we especially want to thank North Shore Animal League America for transporting these little fur friends, they're taking them to a location that will give them a much higher chance of adoption! Oh and by the way you can fit over 13 Cats and Carriers in the back of your Subaru! 🐾
---