The 2022 Subaru Love Promise Customer and Community Commitment Award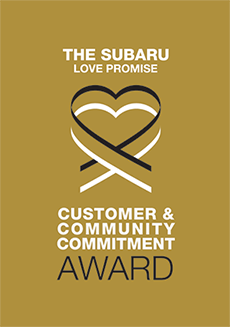 We've been nationally recognized for our dedication to our customers, our community, and the Subaru Love Promise.
We're honored to receive the 2022 Subaru Love Promise Customer and Community Commitment Award. This award nationally recognizes elite Subaru retailers who provide an exceptional customer experience at every interaction with Subaru. These retailers have also demonstrated an outstanding commitment to supporting passions and causes in their local communities in important areas such as the environment, community, health, education, and pets.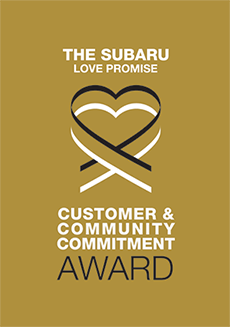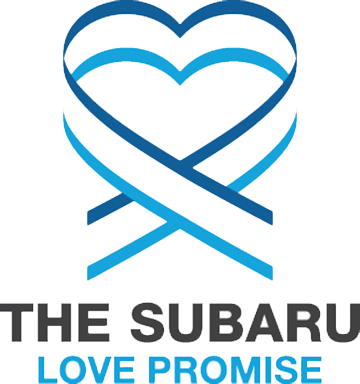 What is the Subaru Love Promise?
Subaru and our retailers believe in making the world a better place and the Subaru Love Promise is our vision of respecting all people. This is our commitment to show love and respect to our customers and to work to make a positive impact in the world.
How is Tindol Subaru dedicated locally to the Love Promise?
Our Love Promise can be seen in various partnerships with local charities and non-profits in and around the Greater Gaston Region. We're grateful for the opportunity, not only to be a part of our community, but to serve it as well.
Animal League of Gaston County
Catawba Lands Conservancy
Gaston County Family YMCA
Love Promise Stories from Tindol Subaru
Subaru and Tindol Subaru believe in making a positive impact on the communities in which we live and work. We uphold that belief through our Love Promise Community Commitment. Every month, we select inspiring stories from customers and partners from around our area who strive to support our collective commitment and feature them here
Subaru Love Learning - About Automotive Careers - Brandi W
Team Tindol visited some North Gaston Auto Tech students! 📚✏️⚙️🔧 Robert Campbell, our Service Manager, Greg Herndon, our Subaru Service Manager, along with Jack Smith, an Auto Tech from our Truck Shop and college co-op student from Belmont Abbey, and Nathan Hanley, one of Tindol's Product Specialists, talked with students about careers in the auto industry and why it's so cool to work in our business! We appreciate Derek Clark, Auto Tech teacher at North Gaston, Brett Buchanan, CTE Director for Gaston County Schools, and Terri Cochrane, Career Development Coordinator, for allowing us this opportunity to talk with some amazing kids! Tindol Subaru proudly supports local schools as well as the Gaston County Education Foundation as part of our Subaru Love Promise commitment to support education and learning.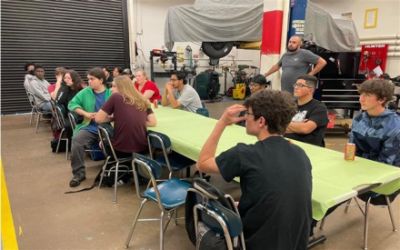 ---
Boy Scouts Pinewood Derby - James S
What do you do with a big lot that has no cars on it? You host the Piedmont Council Boy Scouts Pinewood Derby! Thanks to all the adult volunteers and the scouts that came out. Weather was perfect and fun was had by all! Congrats to the winners: 1st Place Bentley Love, 2nd Place Edward Shell, 3rd Place Braylon Kiser, Best in Show Alana Fioramanti. Tindol proudly supports the The Boy Scouts of America which provides youth with programs and activities that allow them to try new things, provide service to others, build self-confidence and reinforce ethical standards.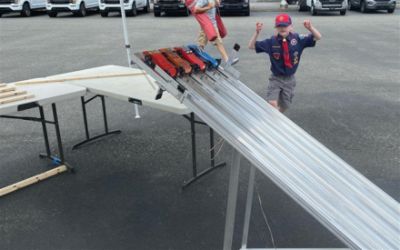 ---
Tindol "SubaDivers" Take the YMCA Plunge - Brandi W
Tindol Subaru once again took the plunge and jumped into the cold water of Robinwood Lake to help raise funds for the Gaston County YMCA. This year the Tindol Subaru "Subadivers" raised $1,819.99. The 2022 Pledge 2 Plunge event resulted in $98,261 total funds raised to help support the YMCA's transformational programs and services and create opportunities for everyone in our community to thrive, regardless of age, income, or background. Who Takes the Plunge? Local men and women from your community have been nominated and selected to take the big plunge into the cold Robinwood Lake. They go out into the community and collect pledges in hopes of raising the most money to raise both awareness and dollars for the Annual Giving Campaign. Who Celebrates? Everyone! The Pledge 2 Plunge event held on Saturday, April 30 was open to the community! Hundreds of Gastonians came out to cheer the plungers on as they jumped into the very chilly water of Robinwood Lake!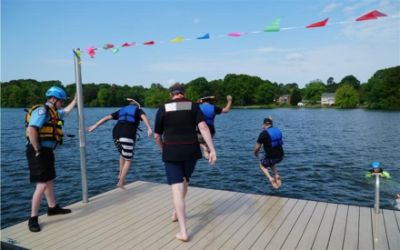 ---
Selling Girl Scout Cookies for Troop 20927 - Becky L
Girl Scout supporters and cookie fans were able to purchase their Girl Scout Cookies at Tindol Subaru's front desk this year in support of Local Troop 20927 led by Becky Lipka. Here is what Becky had to say, "Thank you so much for allowing us to set up a Girl Scout Cookie Table at Tindol Subaru, we are so blessed to be able to partner with you. Tindol sold 1,239 boxes and our troop earned $929.25. We paid for a cabin in Bryson City with the money earned from the sales at Tindol Subaru. We are going to ride the train thru the mountains and white water raft back, go tubing, visit a gem mine and do some hiking on our trip Father's Day Weekend." "This is my 36th year as a leader and my 38th year as a Girl Scout. I'm still at Myers Memorial Church. I love being a Girl Scout Leader. It has truly brought me a lot of joy in my life. I wish I would have had an adult who invested in me when I was a teenager. Girl Scouts have shown me that I can do anything." And she can! Becky has made a difference in so many girls lives. Girl Scouts builds women of courage, character, & confidence, and who make the world a better place. Team Tindol was proud to be selling Girl Scout Cookies for her troop.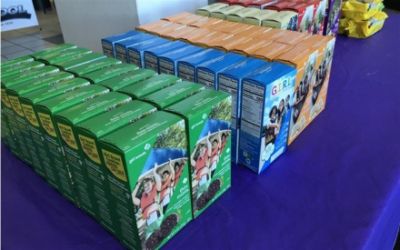 ---
Sharing the Love for Education - Robin A
Tindol Subaru Loves Learning, and through the annual Subaru Share The Love initiative, we were honored to present over $9,000 to the Gaston County Education Foundation at the Annual Are You Smarter Than a Gaston County 5th Grader competition. Each year the Tindol Subaru team goes back to school to partner with Gardner Park Elementary for the competition, and 2022 was no different, except Tindol contestants won the Team Spirit Award! Peace ✌️Love ❤️ Subaru. Sponsored by the Gaston County Education Foundation, "Are You Smarter" is a popular annual event that pairs businesses and organizations with elementary schools in a fun game show format. Proceeds go toward the Ron L. Ensley grants for teachers to fund innovative classroom lessons and projects. Tindol Subaru is a Title Sponsor for the annual event. Tindol also supports the Gaston County Education Foundation and Gardner Park throughout the year as part of our Subaru Love Promise commitment to education.
---
Easter Bunny Delivery to Ivy Nursing Home - Natalie T
The Tindol Subaru Admin Office adopted a Nursing home for Easter and took the residents and staff some Easter treats with our bunny ears on! Ivy Nursing Home is funded primarily by Medicare and many of the residents do not have family to visit or support them. Our team wanted to share the love by putting together eggs with treats in them, stuffed animals, sweets and other surprises, all wrapped together in nice little packages. The recipients were very surprised and grateful, and the staff were so shocked that we shared with them as well. We told them how much they were appreciated for taking care of those who have no one and for caring about others. It was a wonderful time of sharing the blessings of Easter and spreading happiness. Harley Dallas is The Ivy's Activities Director. She took us around room to room to meet these sweet folks and pass out the goodies. She said "this was an unexpected treat, and all the residents are very happy! They will be talking about the 'bunny girls that came to visit' for weeks!" She also expressed her thanks for including the staff as sometimes they are overwhelmed and don't get a pat on the back or any appreciation. The Tindol Subaru Admin Team thoroughly enjoyed spending the morning at Ivy and we look forward to doing more with them in the future.
---
Community Foundation Run - Brandi W
Tindol Subaru was honored to both sponsor and participate in the 2022 Community Foundation Run in Downtown Gastonia. Our very own Tindol Subaru General Manager, Robin Anderson, and her daughter, Hannah Billings, ran the 5k. The Community Foundation Run is an annual fundraising event for local nonprofits facilitated by the Gaston Community Foundation, Inc. Over 5,000 people came together for one of the biggest celebrations of community spirit and support in the county. After eighteen consecutive years, the success of the event has been proclaimed by participating non profits, community leaders, runners, walkers, donors, sponsors and all participants. $23,489,793 has been raised since the first event held in 2003.
---
Purse Power for the United Way - Julie P
Tindol Subaru is a proud supporter of the United Way of Gaston County, and one annual event that we LOVE to support is Purse Power! The power to do good is in... the purse?! The 2022 Purse Power event helped raise funds to deliver free books to local children in need in partnership with Dolly Parton's Imagination Library - a book gifting program that mails free, high-quality books to children from birth to age five, no matter their family's income. After launching in 1995, the program grew quickly. First books were only distributed to children living in Sevier County, Tennessee where Dolly grew up. It became such a success that in 2000 a national replication effort was underway. By 2003, Dolly Parton's Imagination Library had mailed one million books. It would prove to be the first of many millions of books sent to children around the world. #SubaruLovesToLearn
---
No Cold Pets - Boy Scout Project - Brandi W
Tindol Subaru partnered with a local Boy Scout doing his Eagle Scout Project. Together, they have built 31 dog houses to shelter pets left out in the elements as part of the No Cold Pets Gaston Project. Several Gaston County groups have come together to support "No Cold Pets-Gaston" which provides free, hand-built wooden dog and cat houses to residents of Gason County, NC. The Gaston Low-Cost Spay/Neuter Clinic, Gaston County Animal Care and Enforcement and Gastonia's AJ's Lawn and Landscaping work together to build and distribute houses to local pet owners free of charge. Gaston County Police who work with the Animal Care and Enforcement Division help ensure the shelters go to the pet owners who need help most. "We have been collaborating since the beginning of November, just trying to provide those in need with a shelter for their pet," said Terry Kenny, a Gastonia attorney who helps lead the spay/neuter clinic.
---
Donating Blankets to Catherine's House - Robin A
The staff at Tindol Subaru donated warm blankets to the residents at Catherine's House, a local transitional housing center in Belmont, NC. Catherine's House serves women and children facing homelessness due to a variety of circumstances such as: domestic violence, un/underemployment, the shortage of affordable housing, unexpected tragedies and the lack of a support network. The Subaru Loves to Help initiative is about supporting those who need it the most in our communities.
---