The 2021 Subaru Love Promise Customer and Community Commitment Award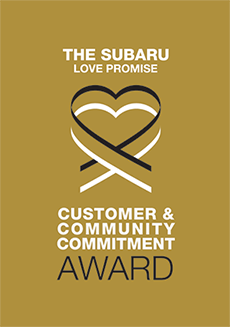 We've been nationally recognized for our dedication to our customers, our community, and the Subaru Love Promise.
We're honored to receive the 2021 Subaru Love Promise Customer and Community Commitment Award. This award nationally recognizes elite Subaru retailers who provide an exceptional customer experience at every interaction with Subaru. These retailers have also demonstrated an outstanding commitment to supporting passions and causes in their local communities in important areas such as the environment, community, health, education, and pets.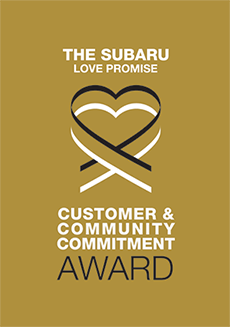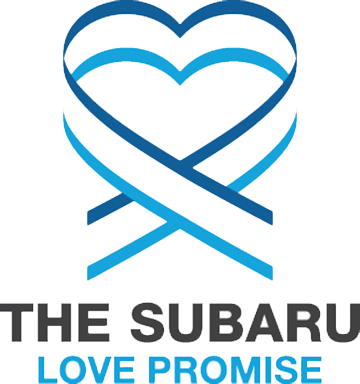 What is the Subaru Love Promise?
Subaru and our retailers believe in making the world a better place and the Subaru Love Promise is our vision of respecting all people. This is our commitment to show love and respect to our customers and to work to make a positive impact in the world.
How is Tindol Subaru dedicated locally to the Love Promise?
Our Love Promise can be seen in various partnerships with local charities and non-profits in and around the Greater Gaston Region. We're grateful for the opportunity, not only to be a part of our community, but to serve it as well.
Animal League of Gaston County
Catawba Lands Conservancy
Gaston County Family YMCA
Love Promise Stories from Tindol Subaru
Subaru and Tindol Subaru believe in making a positive impact on the communities in which we live and work. We uphold that belief through our Love Promise Community Commitment. Every month, we select inspiring stories from customers and partners from around our area who strive to support our collective commitment and feature them here
Tindol Subaru's Annual GPF Golf Classic - Amanda N
The Gastonia Police Foundation was established in 2009, and has been partnering with Tindol Subaru since 2010. They are the Title Sponsor of our annual golf tournament, which is our main fundraiser. Through the money they raise, our Foundation has been able to provide more programs and services in our community than ever before. The Foundation works closely with our department to create countless opportunities for youth in our community, for our officers, and even our canines. The tournament has helped us raise funds for programs such as Shop with a COP, Unity in the Community, drones, canine bullet-proof vests, and CSI camp to name a few. Each and every program helps us to serve the public better and to strengthen relationships throughout our community. The Tindol Team, in conjunction with our board of directors, works tirelessly to ensure the event raises enough money to help support these programs. We are fortunate to have a tournament that has been sold out each year the Foundation has been involved. The community support is overwhelming and the participation from numerous law enforcement agencies in our area is inspiring. The Tindol Subaru Golf Tournament does not just have private donors playing the course, but members of the Gaston County Sheriff's Office, NC Highway Patrol, and the Gastonia Police Department. Each of these agencies pay to have teams who play in order to help support the event and to ultimately make a difference in our community. The tournament has proven to be not only an opportunity to raise funds for our city-wide programs and events, but also to create camaraderie. We are grateful for Tindol Subaru's partnership and we look forward to making a difference in our community for many more years together.
---
Are You Smarter Than a Gaston County 5th Grader? - Jaime W
On behalf of Gardner Park Elementary, we would like to say thank you a thousand times to Tindol Subaru for their continued support and commitment to the community especially during these times of uncertainty. Tindol Subaru has been a wonderful sponsor of the Are You Smarter than a Gaston County 5th Grader for the past fifteen years. Yet, this year was truly one for the books with Max and Miles leading the excitement as our team captains from Gardner Park. The event radiates fun and excitement as the team at Tindol Subaru always demonstrates excellent sportsmanship as the kids show just how smart a 5th grader is! With this event being the main fundraiser for the Gaston County Education Foundation, we are always so thrilled to participate with the team at Tindol Subaru in an effort to raise money for teacher grants. These grants support creative classroom projects and programs that add substantially to the knowledge and growth of our students. Thank you, Natalie, Robin and the Tindol Subaru team, for continuing to support and pave a road of success for our student scholars!
---
YMCA Pledge 2 Plunge - Brandi W
The Team at Tindol Subaru took the plunge into Robinwood lake to support the YMCA during the 2021 Pledge 2 Plunge fundraiser, helping to raise over $2500 to support community programs at the Warlick Family YMCA in Gaston Co.
---
Taking the Plunge to Support the YMCA - Michelle B
Tindol Subaru took the plunge to help raise money for the Warlick Family YMCA in Gastonia. The "Tindol Suba Heroes" Team dressed up in neon super hero masks and capes and jumped in the chilly waters of Robinwood Lake as part of the YMCA's annual Pledge 2 Plunge fundraising event. Tindol Subaru raised over $2500 for The Annual Giving Campaign which supports amazing Y programs such as Y Enrichment Program and Afterschool, Summer Day Camp, Safety Around Water and LIVESTRONG at the YMCA.
---
ISF - Supporting Pediatric Cancer Research - Karen M
"I can't begin to thank you enough for your Sponsorship and Luminary Dedication supporting our March 9th event (Isabella Santos Foundation Luminary Event to raise funds for a pediatric cancer clinical trial while honoring cancer survivors). It was an incredibly special day celebrating Isabella and to have so many luminaries of loved ones surrounding hers was inspiring. I do wish everyone had the chance to be there with our team for the exact moment when all the purple luminaries started to glow in the dark… it was breathtaking! Your sponsorship helped us raise $91,327 and will go directly to helping fund Dr. Sholler's neuroblastoma clinical research trial at Levine Children's Hospital. Dr. Sholler and her ISF Rare & Solid Tumor Team are making waves for kids with rare cancers and we are so proud to be part of it. This program is truly saving lives because of your support." Karen Murphy, Director of Sponsorships & Partnerships, Isabella Santos Foundation
---
Belmont Teacher Lunch - Rochelle
Tindol Subaru bought lunch for the Belmont Middle School teachers on Friday March 19th. With virtual school, 2-day in person school, and frequent disinfecting and cleanings, the teachers are working bell to bell and burning the candle at both ends. Tindol Subaru wanted to share some love with them, so they partnered with Belmont's Specialty Foods, a locally owned restaurant and catering service in Belmont. This was a simple but meaningful act of kindness. "Thank you very much for your support to the teachers and staff at Belmont Middle School! The meal provided by Belmont Specialty was a huge hit! The support you give to our community amazes me and encourages me to continue to do more. Thank you from the bottom of my heart!" Rochelle Skarpalezos, Belmont PTO
---
Second Harvest Food Bank - Julie P
Tindol Subaru is honored to help Feeding America support the Second Harvest Food Bank of Metrolina which provides food to families in 24 counties throughout North and South Carolina. Local Subaru retailers are helping to provide over 760,000 meals throughout our local communities. Second Harvest provides food and grocery items to charitable agencies that assist people in need. They also provide training, technical assistance and hunger education to partner agencies in an effort to help end hunger.
---
How Many Cats Can you Fit In a Subaru - Brandi W
Tindol Subaru loves pets and we love helping our local animal shelters find loving homes for pets in need by sharing their posts on social media to help gain additional exposure. The dealership appreciates all of our community partners for helping local pets in need, and we especially want to thank North Shore Animal League America for transporting these little fur friends, they're taking them to a location that will give them a much higher chance of adoption! Oh and by the way you can fit over 13 Cats and Carriers in the back of your Subaru! 🐾
---
Public Radio Support, WFAE Subaru Crosstrek Raffle - Jeffrey B
Tindol Subaru has shown great commitment to the local community by partnering with local non-profits. A dozen years ago Tom Chester, GM of Tindol Subaru in Gastonia, NC noticed something… The majority of cars that came to the dealership for service had their radio stations tuned to one station – WFAE 90.7, Charlotte's NPR News Source, a non-profit public radio station. Tindol Subaru proudly began supporting WFAE as a sponsor of their programs and recently began sponsoring the station's vehicle donation program. In 2019, Tindol Subaru took their support to the "next level" by donating a new Crosstrek to the station for them to raffle off during their fall on-air fundraising campaign. The donation helped WFAE exceed their fundraising goal for the campaign! In total, more than 36,000 entries were tallied for the 2019 raffle. Building on the success of the 2019 Crosstrek raffle and increasing their commitment to WFAE during the pandemic, Tindol Subaru donated a 2021 Crosstrek to be raffled off between the station's fall and winter on-air fundraising campaigns. The donation led to a significant increase in donations to WFAE, generating more than 96,000 entries! With the support of Tindol Subaru, WFAE is on pace to exceed fundraising goals for 2021 and is one of the fastest growing public radio stations in the country! We sincerely appreciate Tindol Subaru's commitment to the nonprofit mission of public radio.
---
Riverside Marina Litter Pick Up - Julie P
Riverside Marina Paddle and Row is a hidden gem on the east border of Gaston County, NC. Along with events, kayak and paddle board rentals and marina amenities, we offer family adventures and fun 365 days a year. I am Dock Master Michael Brunnemer, and I know the power of giving back. Here at Riverside, we offer huge discounts and services to non-profit community programs and help plan events and fund raisers for them to raise awareness and money. Riverside partners with conservation giants like Catawba Land Conservancy and Catawba River Keepers to name a few, and we try our best to make the world a better place and preserve nature for all to enjoy. We like to say we "paddle with a purpose"! One of our local car dealers, Tindol Subaru, heard about how much we do for conservation and nature, so they contacted us about donating their time and energy to do litter pick up. This thrilled us as it enables us to continue our mission to partner with other businesses who have similar vision and purpose like we do. Tindol's team came out with great enthusiasm and energy and jumped right in to helping the entire water frontage and property be litter free. They walked the shore line, saddled up kayaks and even paddled to the small island across from us and cleaned the banks that were inaccessible by foot. They combed the entire property and didn't let the cooler weather or wet fannies deter their goal to help us provide a clean and litter free area. We are very appreciative of Tindol and the Subaru mantra to "do the right thing because it's the right thing to do". Tindol has been around for a long time and their reputation is one that we are proud to associate with and we are thankful they chose us to partner with. Tindol also supports Catawba Lands Conservancy and the River Keepers, so we know we share a similar passion for purpose with our businesses. Thanks to Tindol Subaru Team for helping support our vision and our passion for family fun, preserving nature and inspiring conservation in Gaston County.
---
Toys For Tots Annual Toy Drive - Brandi W
The United States Marine Corps Reserves founded the Toys for Tots program in 1947. We collect new unwrapped toys each year to distribute as Christmas gifts to the less fortunate children in the community. We have a strong group in Gaston County and have many organizations that help us collect toys in the local area. Tindol Subaru has partnered with our program since they began in Gaston County 12 years ago. Each year the Tindol Team collects thousands of dollars' worth of new toys to share with local families. Tindol goes above and beyond the collection process by also having a "Toys for Tots Run" the second Saturday in December. They typically have from 100 to 150 customers and friends come out to support the toy donation. On top of the toy collection, the Toy "Run" usually attracts 80-120 vehicles to ride in the "Run" event that circles the county over a 90 minute time frame. The Gaston County Sheriff's Dept supports this event as well by sending several Deputies to chaperone the "Toy Run" to protect the 120 vehicles parading around the County for the benefit of the kids. This attention really helps us gather more toys and donations for the less fortunate in this area by raising the awareness of our program. Tindol also usually has a Santa Claus join this event and do free "Pictures with Santa" for families that donate toys. They also invite the military for these free photo opportunities as well. This year COVID put a damper on that part, but this didn't affect the amount of toys and donations they were able to collect. Tindol Subaru's service team offered a discount on services with a toy donation. Greg McAbee and his service team collected over 50 additional toys with this promotion. My colleagues and I appreciate Tindol Subaru for stepping up and helping in times of need and not letting the circumstances of social distancing and masks deter their spirit of helping others. The US Marine Corps is grateful for businesses like Tindol to partner with and lend a hand to those less fortunate. Sincerely, Corporal Glenn Perkins US Marine Corps Reserves
---
First Responder Appreciation & Drive By Feeding - Brandi W
The Tindol Subaru Team LOVES our Hometown Heroes, and what better way to show our appreciation than a drive through lunch from Chick-fil-A Franklin Square! We are so thankful for each and every first responder including those who work for the Gastonia Police Department, Gaston County Police, Gastonia Fire Department, and Gaston County Emergency Medical Services.
---
Catherine's House - Boyce O
We are thankful to our friends at Tindol Subaru who visited us last week with a donation of blankets through their "Subaru Loves to Help" initiative. When our friends at Tindol Subaru came to visit, they invited one of their customers to come with them. Their customer, Megan, also happens to be a previous resident at Catherine's House. It was a beautiful reunion having Megan come back and visit her Catherine's House family. She even saw her thank you note, which is still on display in our prayer/meditation room after all these years. We are grateful to our friends at Tindol Subaru for their donation and for spending time with us last week. Thank you to Robin Anderson and her team for "Sharing the Love" with us!
---
Lunches for the Boys & Girls Club - Chad M
The Boys and Girls Clubs of Greater Gaston has four sites in Gaston County. We provide character development, academic enrichment programs, homework help, tutoring, mentoring, individual attention and other assistance that prepares kids for school every day. We have approximately 1100 club members that we provide a safe and fun place to come to after school and during the summer months. This presents a challenge to feed this many kids every day, and some of them would not have a meal if it were not for school and our club. We are thankful for businesses and churches in the community that partner with us to provide lunch for these children daily. Tindol Subaru is one of the businesses we are thankful for, as they provided lunch for our kids and took it a step further by writing words of encouragement on the paper sacks that held their lunches. We could not provide services like this to our children without businesses like Subaru "Sharing the Love" with us. Tindol also sponsors a grant from the Greater Charlotte Automobile Dealers that provides funding for some of our 1400+ programs we offer every year to our wonderful kids. Thank you to the entire team at Tindol Subaru for helping us provide these children with academic and emotional support for their future success, character development like respect and kindness, and food for their physical needs. We appreciate Robin Anderson and her team delivering the lunches to us. We love our friends at Tindol!
---
37 Forever Homes - Terry A
Tindol Subaru partnered with Tri-County Animal Rescue Shelter and the Animal League of Gaston County for our annual pet adoption event, and 2020 was our most successful year to date with 37 homeless pets finding a loving forever home. "The overwhelming response of the people wanting to adopt was amazing! Everyone at Tindol Subaru was supportive and wonderful to work with." Joann Hager, Tri-County Animal Rescue "I heard about the great turnout and was really happy that so many people were taking an interest in our homeless pets. Tri County does so much good for animals in our area and I can always turn to JoAnn and her volunteers for help, which I do often. Thanks to Tindol Subaru for hosting the event and providing so much support." Nancy Foltz, Shelter Pets To Go. "Animal League of Gaston County was very excited to participate in the ASPCA/Subaru Loves Pets adoption event at Tindol Subaru. This event is a testament to groups working together for a great cause. Thanks to the generosity of Subaru, Animal League received a grant that covered the costs for spay/neuter and vaccinations for dogs and cats offered for adoption. Animal League teamed up with Tri-County Animal Rescue for the event. Tri-County is a premier animal rescue that adopted out over 1,000 animals last year alone. Together with Tindol Subaru, Animal League and Tri-County promoted the event via a newspaper article and social media. The event was a huge success. Thanks to all involved, especially Tindol Subaru for giving us a wonderful location to showcase the pets." Terry Albright Kenny, Gaston Low-Cost Spay/Neuter Clinic
---
Mattie's Adoption Day & First Ride - Joann H
Mattie came from a broken home. When mom and sister left, they couldn't take her. She stayed with dad. All was fine until new step mom came to live with there. Step mom decided Mattie was too big to be an indoor dog so outside Mattie went. Step mom only wanted her little dog to be inside. Mattie was chained to a tree and left outside for three years! She didn't get love, any attention or vet care. One day mom and sister came back to town and found Mattie in horrible conditions. Mom was so upset…she convinced dad and step mom to give Mattie up. Mom contacted Tri-County Animal Rescue and asked us to come get Mattie. TCAR accepted Mattie into our adoption program and found a foster home for her. The first thing for Mattie was vet care. Wow! Mattie was heartworm positive, had horrible skin and no hair over most of her body due to flea allergies. Mattie apparently had had numerous ear infections, that were never treated and her ears were severely scarred. Mattie was in terrible shape. She was given vaccines, micro-chipped, placed on medications and shown love. Mattie has the sweetest soul and continues to smile even with all that she has endured. Mattie was adopted by a wonderful family at the Subaru Loves Pets adoption event at Tindol Subaru. Update from Mattie's new mom: We love Mattie! She is so loving and always smiling. Mattie has a new fur brother and they are best buds! Mattie loves going on car rides, going for walks and hanging out at out cabin.
---
Woodhill Elementary - Playground Project - Loretta R
Our playground area at Woodhill Elementary looks a bit more playful thanks to Tindol Subaru's commitments to community, wellness, and education. Our students at Woodhill Elementary School in Gastonia, NC needed outdoor activities for play during this pandemic. Outdoor activities must meet requirements of social distancing and students cannot use balls, jump ropes, bean bags or anything that can be touched or passed around. I am Woodhill's Art teacher, Jamea Bryson-Phillips, and along with our PE teacher, Wavy Williams, we had some ideas to create opportunities for our kids, but with all the extra responsibilities we have with virtual school, split groups, and social restrictions, we didn't have the time to craft these ideas into reality. So we reached out to some of our community partners for help. Natalie Tindol and her Tindol Subaru team answered the call by painting games and activities on the asphalt at the school, including an obstacle course, hopscotch, mirror me, and long jump. Mrs. Loretta Reed, our Principal at Woodhill Elementary, was thrilled to learn her teachers reached out to our community resources and came up with such an innovative plan to keep the children active and moving during this challenging time! We are thankful for the team at Tindol Subaru for sharing their "Subaru Love" and assisting us in making this project a reality for our kids. Tindol Subaru provides ongoing support to the Gaston County Education Foundation, CaroMont WOW wellness group, and our county school system and we are proud to call them partners.
---
We Love Keeping Our Customers Safe - Julie P
We love our customers! Keeping our customers and employees safe during these challenging times is our top priority. Tindol Subaru utilizes Pure Spaces electrolyzed water (HOCl) to sanitize our dealership. This is an all-natural sanitizing agent that is safe for people and the environment. Even though it is 100x stronger than bleach. It is non-corrosive, nontoxic, and nonirritant.
---
Tindol Subaru Supports Local Pet Adoptions - Brandi W
LOVE is what makes a Subaru a Subaru, and we all know how much our pets LOVE going along for the ride! Sadly, many pets don't have a Subaru or a home and family of their own. Tindol Subaru hosts pet adoption events throughout the year, sponsors a Week Of Caring in partnership with Gaston Low Cost Spay Neuter Clinic which supports local pets in need to ensure affordable access to services, and collects dry pet food to help our fur friends in need. The best part about Tindol Subaru's initiative to show love for pets is the number of fur babies that the dealership has been able to help find a forever home! The dealership urges everyone to "Adopt, Don't Shop" and helps spread awareness of local shelter animals in need of a place to call home by working with the "Shelter Pets to Go" program. By providing additional exposure to the program which was created by Gaston County Animal Care and Enforcement, in partnership with The Animal League of Gaston County, and the Gaston County Low Cost Animal Clinic, Tindol Subaru has helped local cats and dogs find a forever home.
---
Tindol Subaru LovesThe Class of 2020 - Julie P
As a proud supporter of The Gaston County Education Foundation, Tindol Subaru was honored to help create a special Graduation Ceremony for the graduating seniors at our local high schools. With traditional graduation ceremonies not viable during the pandemic, we wanted to do our part to help make sure the Class of 2020 was celebrated for their efforts and achievements. We also enjoyed thanking the other sponsors with some delicious apple pie! "We are so thankful that Dr. Booker reached out to the business community with his needs to make graduation special for all the high schools in Gaston County. Because of the graciousness of so many business partnerships, every school was able to have a graduation and every senior was able to feel special and have the attention they deserve. We are grateful to be in a community that cares and steps up for the greater good of all." - Natalie Tindol
---
Appreciation for First Responders - Brandi W
Drive By Feeding - On May 7th, 2020, Tindol Subaru took on the look of a drive thru restaurant, feeding Chick-fil-A lunch to 400 first responders in Gaston County. Fire trucks, police cruisers and EMS lined up outside the dealership for a free chicken sandwich, chips and dessert provided by the restaurant, Tindol Subaru and Harris Teeter and Food Lion. Natalie Tindol and others kept a quick pace in getting the emergency vehicles in and out of the parking lot. The event was held to thank those essential workers on the front lines in the battle against COVID-19. We are thankful for all our local hometown heroes and appreciate their dedication and commitment to our community.
---
We Love our Healthcare Workers & First Responders - Brandi W
During this unprecedented time, we are thankful for our healthcare workers and first responders. Although we always appreciate their dedication and commitment to our community, at times like this we are reminded that they truly are the heroes on the front lines protecting us all. As a small token of our gratitude, Tindol Subaru is offering special service discounts to healthcare workers and first responders, but more importantly we are offering free contactless pickup and delivery to those who still need their Subaru serviced during this time. We understand that transportation is essential and we are here to meet the needs of our customers.
---
Tindol Subaru Supports Local Community YMCA - Brandi W
The Warlick Family YMCA has a huge impact on the Gaston County community. The annual Pledge 2 Plunge event raises money and awareness for YMCA programs. As one of 17 teams that participated in the event in March, 2020, Team Tindol raised over $2,000 to support the YMCA. The money is used to provide a safe place for kids to come after school, to provide a summer camp experience for kids in the community, to help fund the Safety Around Water program that teaches life-saving water skills, and to support the LiveStrong at the Y cancer wellness program that helps cancer survivors find support and wellness free of charge. Tindol Subaru is fortunate to be a part of such a wonderful community and appreciates the impact the YMCA has on our local youth and community members.
---
Tindol Subaru Supports Education - Brandi W
Tindol Subaru competed in the "Are You Smarter Than a Gaston County Fifth Grader?" competition on Feb 13th, 2020. Sponsored by the Gaston County Education Foundation, this popular annual event pairs businesses and organizations with elementary schools in a fun game show format. Proceeds go toward the Ron L. Ensley grants for teachers to fund innovative classroom lessons and projects. This year, Tindol Subaru teamed up with fifth grade students from Gardner Park Elementary School to answer a series of questions related to science, math, history, and other subjects. Tindol Subaru also donated $15,000 to the Gaston County Education Foundation in support of local educators and students.
---
Tindol Subaru Loves Helping Local Pets - Brandi W
During Tindol Subaru's annual Week of Caring, the dealership teamed up once again with the Gaston Low Cost Spay/Neuter Clinic to make sure our local pets have access to the care they need by donating $5,000 toward vaccinations, microchipping, spaying and neutering. Tindol Subaru's commitment to our fur friends and family has helped many pets throughout Gaston County and the local community has supported the dealership's efforts by volunteering and donating food and supplies to help pets in need.
---