We are open to meet your automotive needs. We are going to extreme measures to ensure the health and safety of our customers and employees. Our team is observing 6 foot social distancing rules and adhering to strict cleaning procedures of our vehicles and facilities. Our sales department is open for appointments, but no more than 10 people are allowed in our showroom at one time. Although our customer lounge is closed, we have seating outside and throughout our showroom. We offer online deal customization, at home test drives and remote e-contracting to more safely serve our customers.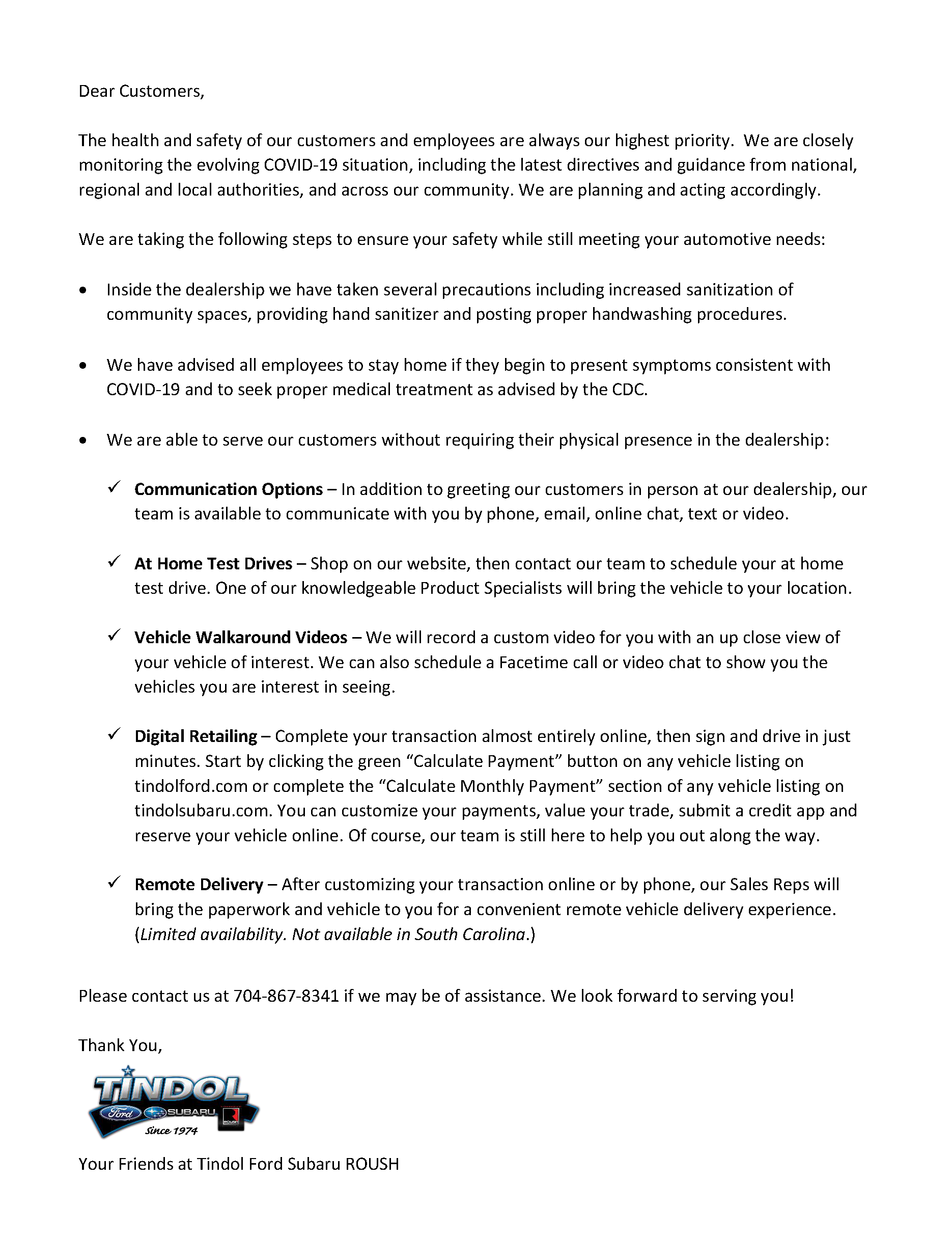 State of the Art Disinfecting
Tindol Subaru utilizes Pure Spaces electrolyzed water (HOCl) to sanitize our dealership.
• All-natural sanitizing agent • Safe for people and the environment • 100x stronger than bleach • Noncorrosive, nontoxic and nonirritant
Our dealership utilizes Pure Spaces - a new standard of purity. It uses electrolyzed water technology to disinfect environments. It is a non-toxic disinfecting agent that is 100 times stronger than bleach but yet it's all natural. It is patented technology that makes it safe for broad applications because it produces hypochlorous acid without salt. The electrostatic spraying combined with this product make it the safest and most effective way to disinfect. Surfaces that can be missed by manual cleaning or even hidden areas are misted by the E sprayer automatically. It ensures that any contaminated areas are disinfected and all pathogens are destroyed. This technology is invaluable in preventing the spread of germs, illnesses, and diseases. This solution kills the flu virus, Norovirus, human coronavirus, rhinovirus, MRSA, HIV, and all known bacteria and super bugs or funguses. It is all natural, non-toxic, and green certified. It meets the strength requirements of EPA hospital grade disinfectants and use against COVID-19. It gives us the comfort of working in a sterile safe environment. It is important to Tindol to protect our customers, employees and families.
---
Supporting COVID-19 Relief Efforts
There are many great ways to help out in our community during this time. Please join us in contributing to the following local relief funds:
United Way's Gaston County Virus Relief Fund
CaroMont Health COVID-19 Relief Fund